ACTISLIM

RASPBERRY MAX
'World Famous' Complex 60 Capsules | 200mg Raspberry Extract
100% Natural Raspberry Extract
One of the safest versions on the market
Packed with antioxidants and super-fruits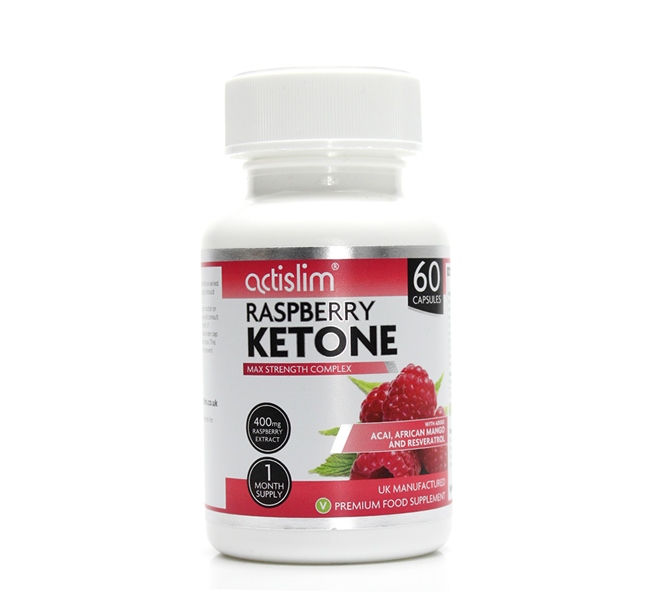 The Actislim version of the world famous Raspberry Extract , we've added our own twist to this by including additional ingredients to make it even more effective than standard Raspberry alone.
"I love Ketones but found these even better with the added ingredients"
INGREDIENTS
Our Actislim Raspberry Max capsules are formulated with Raspberry Extract, African Mango, Acai Berry, Green Tea, Apple Cider Vinegar, Kelp, Caffeine, Grapefruit Pectin & Resveratrol. We've offered an insight into the key ingredients below:
Raspberry Extract
Raspberry Ketone is the enticing aromatic compound within raspberries that can offer many health benefits. Clinical findings suggest that they may help to regulate the protein adiponectin, which plays an important role in the body's metabolism. As a result, these exciting nutrients can support weight loss efforts, particularly when paired with a well balanced diet and regular exercise regime.
African Mango
From the Irvingia Gabonensis tree, African Mango extracts are taken from the fruits' Dikanut seed. When taken alongside a balanced diet and exercise regime, this extract is believed to provide benefits for long-term weight loss and healthy cholesterol levels. As a result, African Mango has become one of the world's most popular dietary supplements over recent years.
Green Tea
Green tea is taken from the Camellia Sinensis plant. The leaves contain potent levels of several types of polyphenols, in particular flavonoids. The most potent flavonoids in green tea include the catechin epigallocatechingallate (EGCG).Green tea is also believed to improve the ratio of HDL 'good' cholesterol to LDL 'bad' cholesterol in the blood. Recent findings show that green tea may support weight loss as part of a calorie controlled diet.
Apple Cider Vinegar
Apple cider vinegar is produced from the fermentation process of apple cider and is an excellent source of vitamins, minerals and amino acids. It is also rich in pectins which are thought to contribute to normal cholesterol levels and weight management
Kelp
Kelp is a nourishing seaweed that contains high concentrations of vitamins and minerals. It is particularly rich in iodine, which supports healthy thyroid function and regulates the production of thyroid hormones.The thyroid gland produces hormones that control the body's metabolic rate - the rate at which the body burns energy to fuel body functions.
Caffeine
It can be found in varying quantities in the beans, leaves and fruits of over 60 different plants with the most common sources being the coffee plant bean and the leaf of the tea bush. Caffeine is widely recognised as being one of the most popular food supplement ingredients for weight management around and is an alkaloid that acts as a stimulant to the Central Nervous System (CNS).
Grapefruit Pectin
A rich, natural source of soluble fiber, Grapefruit Pectin Fibre to helps to support balanced blood glucose levels and can help to give you a feeling of satiety.
Resveratrol
Resveratrol is an exciting nutrient found in red grapes (and red wine) which is believed to support healthy heart function and are a perfect addition to a healthy diet and lifestyle
NUTRITIONAL INFORMATION
Per serving of Actislim Raspberry Max
Per Capsule:
Raspberry Extract
50mg
African Mango 10:1 Extract
15mg
Green Tea Extract 40% Polyphenols
20mg
Apple Cider Vinegar
12.50mg
Kelp
6.50mg
Caffeine Anhydrous
25mg
Grapefruit Seed Extract 5:1
12.50mg
Resveratrol 50%
5mg
Inactive Ingredients: Microcrystalline Cellulose (260mg), Magnesium Stearate (Vegetable Source) (20mg), HPMC Capsule Shell
SUGGESTED USE
As a dietary supplement, take one (1) capsule at breakfast and one (1) capsule at lunch. This daily serving provides you with 400mg of Raspberry Extract.
WARNINGS
Do not exceed the recommended dose.
Pregnant or nursing mothers, children under 18 and individuals with a known medical condition should consult a physician before using this or any dietary supplement. Keep out of reach of children. Do not use if the inner seal is damaged or broken. Store ina cool, dry place. Food supplements should not be used as a substitute for a varied and balanced diet.