ACTISLIM

T5 BURN
Powerful Fat Burner 60 Capsules | 500mg
Ultimate Energy Boost
100% Natural & Safe
Trusted Brand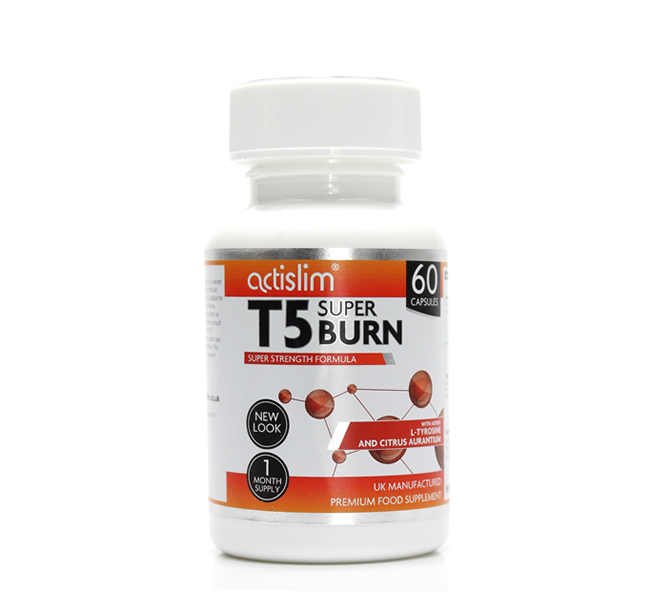 Offers a massive thermogenic fat burning effect, increased energy levels and increased metabolism allowing you to burn more calories.
"I wanted to try T5's but needed a brand I could trust. Actislim Burn provided great results!"
INGREDIENTS
Our Actislim T5 BURN capsules are formulated with Raspberry Extract, Caffeine, L-Tryptophan, Citrus Aurantium, L-Tyrosine & Niacin. We've offered an insight into the key ingredients below:
Raspberry Extract
Raspberry Ketone is the enticing aromatic compound within raspberries that can offer many health benefits. Clinical findings suggest that they may help to regulate the protein adiponectin, which plays an important role in the body's metabolism. As a result, these exciting nutrients can support weight loss efforts, particularly when paired with a well balanced diet and regular exercise regime.
Caffeine
It can be found in varying quantities in the beans, leaves and fruits of over 60 different plants with the most common sources being the coffee plant bean and the leaf of the tea bush. Caffeine is widely recognised as being one of the most popular food supplement ingredients for weight management around and is an alkaloid that acts as a stimulant to the Central Nervous System (CNS).
L-Tryptophan
L-tryptophan is an amino acid, a protein building block that can be found in many plant and animal proteins.L-tryptophan is considered an essential amino acid because our bodies can't make it. It is important for the development and functioning of many organs in the body.
Citrus Aurantium
Also know as 'Bitter Orange', Citrus Aurantium is used by people to support energy and a robust metabolism.
L-Tyrosine
L Tyrosine is a naturally occurring amino acid that can be found in small quantities in a variety of foods. It is a non-essential amino acid, which plays an important role in the production of the neurotransmitters dopamine and norepinephrine
Niacin
Niacin is a water soluble B vitamin naturally found in lean meats, fish, peanuts, mushrooms, brown rice and brewer's yeast. Niacin contributes to normal energy yielding metabolism and also to the reduction of tiredness and fatigue.
NUTRITIONAL INFORMATION
Per serving of Actislim T5 Burn
Per Capsule:
Raspberry Extract
150mg
Caffeine Anhydrous Pure
100mg
L-Tryptophan
75mg
Citrus Aurantium
85mg
L-Tyrosine
50mg
Niacin
17mg
Inactive Ingredients: Silicon Dioxide (5mg), Magnesium Stearate (Vegetable Source) (5mg), Gelatin Capsule
SUGGESTED USE
Take 1 capsule a day. Only increase dosage to 2 capsules in the morning and 1 capsule in the afternoon if required.
WARNINGS
Do not exceed the recommended dose.
This product is not intended for pregnant or nursing mothers, children under the age of 18, and individuals with a known medical condition. Please consult a doctor before using this or any food supplement. Discontinue immediately if sleeplessness or nausea occur.