ACTISLIM

NIGHT
Complimentary Night Time Management 84 Capsules
Works while you sleep!
Can help to maintain your target weight
Can help to protect muscle and solid lean tissue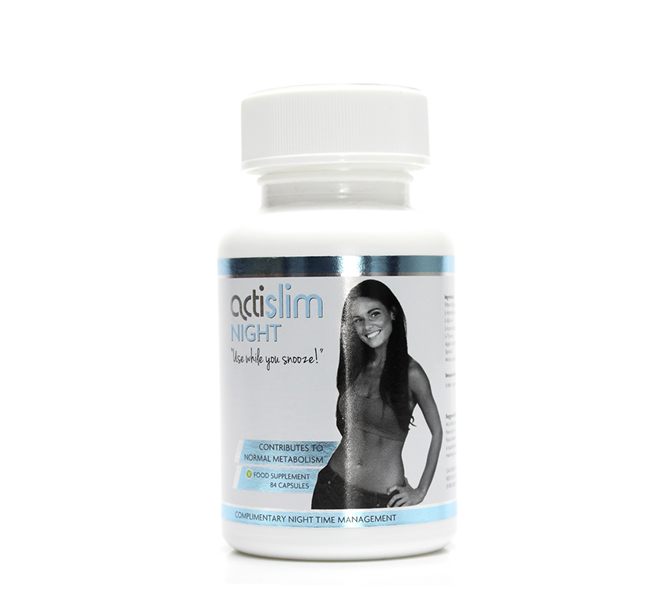 Designed to be taken on an evening, we have found that over the years, customers taking both Actislim Platinum/Ultra and Actislim night achieve far better and faster results.
"It definitely helped to improve the effects of the day time product I was taking"
INGREDIENTS
Our Actislim Night capsules are formulated with Vitamin B6, Chromium, L-Arginine, L-Glycine, L-Tyrosine, L-Omithine, Kelp, Lecithin, Apple Cider Vinegar, Spirulina. We've offered an insight into the key ingredients below:
Vitamin B6
Vitamin B6 provides a role in the contribution towards normal energy-yielding metabolism, formation of normal red blood cells, normal protein and glycogen metabolism and a reduction of tiredness and fatigue.
Chromium
Chromium is an essential trace mineral that helps to maintain normal blood glucose levels and aids the metabolism of other nutrients in the body.
L-Arginine
L-Arginine is thought to be involved in the production of nitric oxide, which helps to dilate blood vessels and improve blood flow to the extremities.
L-Glycine
There is a lot of evidence to suggest that Glycine, when combined with a simple carbohydrate, can improve lean growth and recovery.
L-Tyrosine
L Tyrosine is a naturally occurring amino acid that can be found in small quantities in a variety of foods.
L-Ornithine
L Ornithine HCl is an amino acid that is considered an essential part of the diet, and is required for a number of functions within the body
Kelp
Kelp is a nourishing seaweed that contains high concentrations of vitamins and minerals. It is particularly rich in iodine.
Lecithin
Lecithin is one of the richest natural sources of Inositol and Choline.
Apple Cider Vinegar
Apple cider vinegar is produced from the fermentation process of apple cider and is an excellent source of vitamins, minerals and amino acids.
Spirulina
Spirulina has long been singled out for its high nutritional properties and health benefits.
NUTRITIONAL INFORMATION
Per serving of Actislim Night
Per Capsule:
Vitamin B6 (pyridoxine hcl)
10mg
Chromium as (50% polynicotrinate, 50% amino acid chelate)
100mcg
L-Arginine (as hydrocloride)
100mg
L-Glycine
100mg
L-Lysine (as hydrochloride)
100mg
L-Tyrosine
100mg
L-Ornithine (as hydrochloride)
50mg
L-Arginine Pyroglutamate
50mg
Proprietary Blend Consisting of: Kelp, Lecithin, Apple Cider Vinegar Powder and Spirulina.
50mg
Inactive Ingredients: Vegetable Magnesium Stearate and Stearic Acid, Gelatin Capsule Shell
SUGGESTED USE
As a dietary supplement adults to take orally 2 capsules nightly up to two hours prior to sleep. Do not exceed 2 capsules in any one day or take capsules more than 2 hours before bed. It is recommended that this product is used either as a supplement, taken alongside Actislim Ultra/Platinum, and also continued on its own throughout the month off, or as a stand-alone product to maintain your weight once your targets have been achieved.
DO NOT EXCEED RECOMMENDED NIGHTLY DOSAGE. KEEP OUT OF REACH OF CHILDREN AND DO NOT USE IF THE SEAL IS BROKEN OR DAMAGED.
Actislim Night should not affect your sleep patterns. If your sleep is disturbed simply halve the dosage. Not intended for nursing or pregnant women, adolescents or individuals on restricted diets or with a known medical condition or if you have a caffeine intolerance. If you have questions about the advisability of taking this product, please consult a physician, pharmacist or herbalist before use. This product is not intended to diagnose, treat, cure or prevent any disease
WARNINGS
Actislim Night is not recommended for use if you:
Are pregnant or nursing
Are on a restricted diet
Are an Adolescent
Have a known medical condition