ACTISLIM

NATURAL CLEANSE
Colon Cleanse Detox with 14 Natural Ingredients
Contains potent premium quality ingredients, suitable for men and women, zero artificial ingredients
Amazing value for money with 60 colon cleanse detox capsules a safe supplement course
Can be used alongside many diet regimes including weight watchers, slimming world, paleo diet amongst others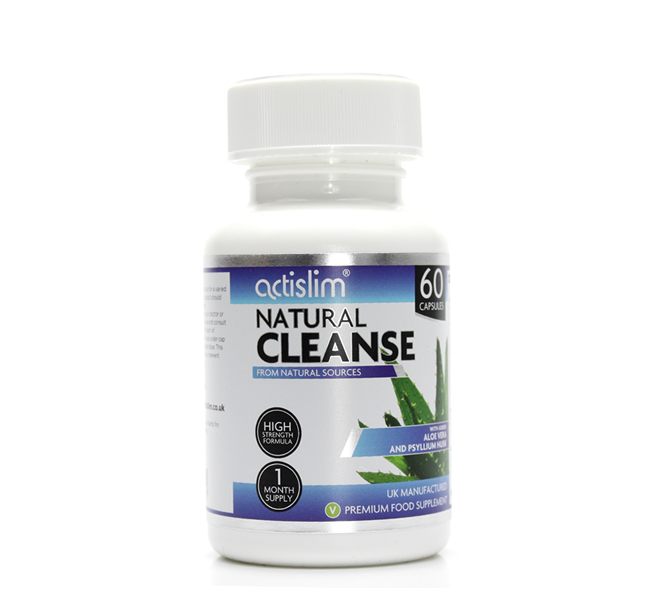 Actislim Natural Cleanse Detox with 14 Natural Ingredients is a perfect choice, with 100% natural stimulant free premium quality ingredients that include Aloe Vera, Alfalfa, Liquorice, amino acids, vitamins and minerals.
"Brilliant to team up with the Actislim Platinum or a T5 to get the maximum results"
INGREDIENTS
Our Actislim Natural Cleanse capsules are formulated with Psyllium Husk, Garlic, Fennel, Citrus Pectin and many more.. We've offered an insight into the key ingredients below:
Psyllium Husk
Psyllium is a form of fiber made from the husks of the Plantago ovata plant's seeds. It sometimes goes by the name ispaghula.It's most commonly known as a laxative. However, research shows that taking psyllium is beneficial to many parts of the human body, including the heart and the pancreas.
Garlic
Garlic (Allium sativum), a herb used widely as a flavoring in cooking, has also been used as a medicine throughout ancient and modern history to prevent and treat a wide range of conditions and diseases
Fennel Seed
Fennel seeds indeed contain numerous flavonoid anti-oxidants like kaempferol and quercetin. These compounds function as powerful anti-oxidants by removing harmful free radicals from the body
Citrus Pectin
Citrus Pectin is a plant fiber obtained from the rind and peel of citrus fruits such as lemons, grapefruits, oranges and tangerines. Structurally, pectin is classified as a water soluble, complex polysaccharide, rich in the sugar galactose. At a molecular level, pectin is a strong binding agent, which directly relates to its tremendous detoxification and cholesterol loweringproperties.
Clove Bud
The health benefits of clove oil can be attributed to its antimicrobial, antifungal, antiseptic, antiviral, aphrodisiac and stimulating properties. The oil is used for treating a variety of health disorders including toothaches, indigestion, cough, asthma, headache, stress and blood impurities.
Nettle
Some of the most important health benefits of stinging nettle include its ability to detoxify the body, improve metabolic efficiency, boost immune health, increase circulation, improve energy levels, manage menstruation, minimize menopausal symptoms, heal skin conditions, protect kidney and gallbladder health, lower inflammation, increase muscle mass, regulate hormonal activity, prevent diabetes, lower blood pressure, soothe hemorrhoids, and improve respiratory conditions.
Alfalfa
There are a number of impressive health benefits associated with alfalfa, including its ability to lower cholesterol levels, improve digestion, protect heart health, detoxify the body, aid immunity, speed healing and reduce inflammation.
Liquorice Root
Licorice offers a wide range of beneficial nutrients and flavonoids. It is a good source of vitamin B1 (thiamine), B2 (riboflavin), B3 (niacin), B5 (pantothenic acid) and vitamin E (tocopherol). It also provides minerals such as phosphorous, calcium, choline, iron, magnesium, potassium, selenium, silicon and zinc. It is a storehouse of essential phytonutrients, including beta-carotene, glycyrrhizin, glabridin, isoliquiritigenin, thymol, phenol, ferulic acid and quercitin.
Chlorella
Studies have shown that chlorella benefits the entire body by supporting healthy hormonal function, promoting cardiovascular health, helping to negate the effects of chemotherapy and radiation, lowering blood pressure and cholesterol, and aiding in the detoxification of our bodies
Cayenne
The health benefits of cayenne pepper, also know as mirchi, include weight loss, good digestion, strong immunity, good blood circulation, and the fact that it functions as a treatment for heart diseases, dyspepsia, inflammation, headaches, and throat congestion.
Aloe Vera
For decades, the soothing nature of aloe vera has been known and respected by the people who believe in naturopathy. It has 18 amino acids that work in association with other compounds of the human body to deliver numerous health benefits. Aloe Vera is best known for its natural healing of the skin, wounds and other skin issues. However, it also has many other benefits like curing heart diseases, diabetes, asthma and arthritis.
Ginger Root
For centuries, ginger has been the go-to root for a wide range of GI distresses. Researchers believe its compounds stimulate digestive secretions, improve intestinal muscle tone, and help move food through the gastrointestinal tract.
NUTRITIONAL INFORMATION
Per serving of Actislim Natural Cleanse
Per Capsule:
Psyllium Husk Powder
200mg
Garlic Herb Powder
20mg
Fennel Seed Herb Powder
20mg
Citrus Pectin
20mg
Clove Bug Powder
200mg
Nettle Extract 4:1
20mg (80mg)
Alfalfa
20mg
Liquorice Root Extract 10:1
8mg (80mg)
Chlorella Powder
5mg
Cayenne Powder
5mg
Aloe Vera Extract 200:1
3mg (600mg)
Ginger Root Extract 20:1
0.3mg (6mg)
Inactive Ingredients: Microcrystalline Cellulose, Magnesium Stearate (Vegetable Source) (5mg), HPMC Capsule
SUGGESTED USE
Take 1-2 capsules with a glass of water daily before bed. For best results drink at least 2 lites of water each day while taking this product to stay hydrated.
WARNINGS
Do not exceed the recommended dose.
This product is not intended for pregnant or nursing mothers, children under the age of 18, and individuals with a known medical condition. Please consult a doctor before using this or any food supplement.