ACTISLIM

NATURAL CLEANSE
Colon Cleanse Detox with 14 Natural Ingredients
Contains potent premium quality ingredients, suitable for men and women, zero artificial ingredients
Amazing value for money with 60 colon cleanse detox capsules a safe supplement course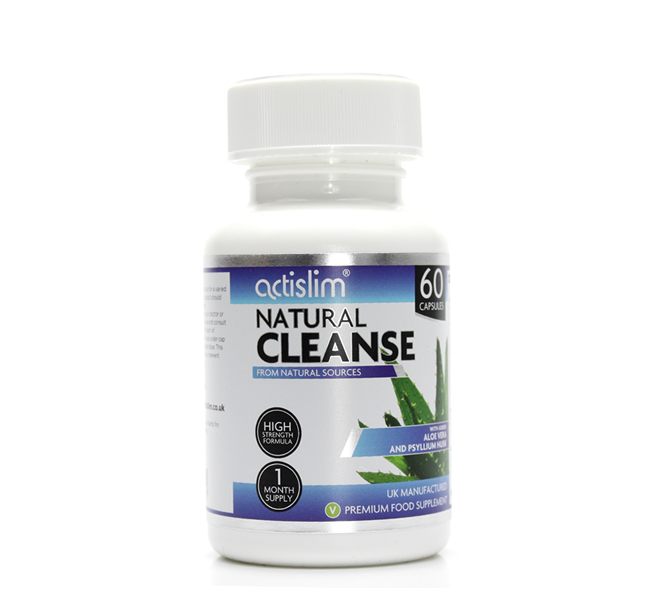 Actislim Natural Cleanse Detox with 14 Natural Ingredients is a perfect choice, with 100% natural stimulant free premium quality ingredients that include Aloe Vera, Alfalfa, Liquorice, amino acids, vitamins and minerals.
"Brilliant to team up with the Actislim Platinum or a T5 to get the maximum results"
INGREDIENTS
Our Actislim Natural Cleanse capsules are formulated with Psyllium Husk, Garlic, Fennel, Citrus Pectin and many more..
NUTRITIONAL INFORMATION
Per serving of Actislim Natural Cleanse
Per Capsule:
Psyllium Husk Powder
200mg
Garlic Herb Powder
20mg
Fennel Seed Herb Powder
20mg
Citrus Pectin
20mg
Clove Bug Powder
200mg
Nettle Extract 4:1
20mg (80mg)
Alfalfa
20mg
Liquorice Root Extract 10:1
8mg (80mg)
Chlorella Powder
5mg
Cayenne Powder
5mg
Aloe Vera Extract 200:1
3mg (600mg)
Ginger Root Extract 20:1
0.3mg (6mg)
Inactive Ingredients: Microcrystalline Cellulose, Magnesium Stearate (Vegetable Source) (5mg), HPMC Capsule
SUGGESTED USE
Take 1-2 capsules with a glass of water daily before bed. For best results drink at least 2 lites of water each day while taking this product to stay hydrated.
WARNINGS
Do not exceed the recommended dose.
This product is not intended for pregnant or nursing mothers, children under the age of 18, and individuals with a known medical condition. Please consult a doctor before using this or any food supplement.