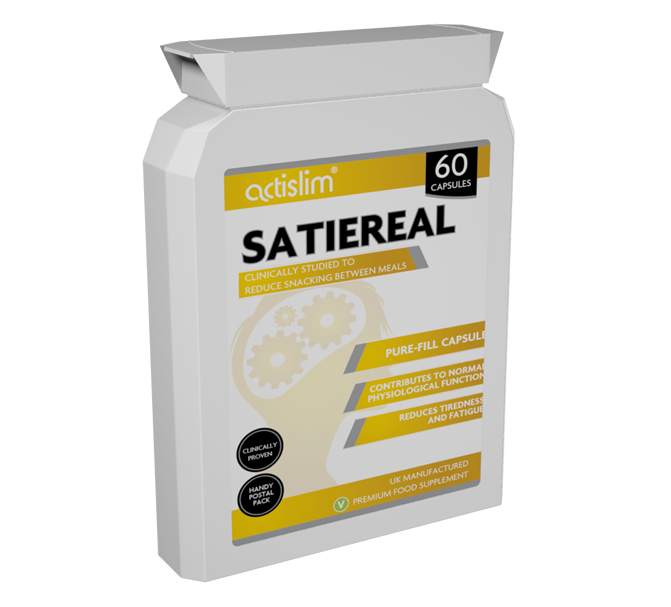 ACTISLIM
SATIEREAL®
60 Capsules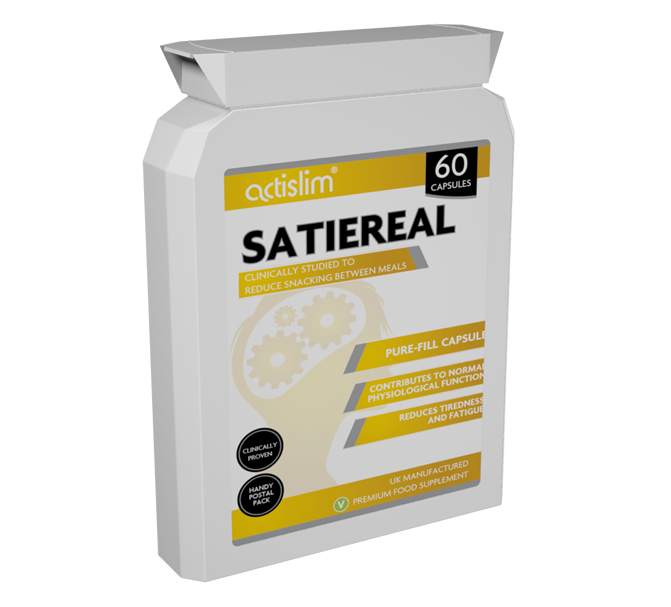 INGREDIENTS
Our Actislim Satiereal capsules are formulated with Guarana 4:1 Extract, Green Tea Extract, Satiereal®, Citrus Aurantium Whole Fruit, Cayenne Powder Extract, Niacin, Black Pepper Extract. We've offered an insight into the key ingredients below:
Guarana 4:1 Extract
Guarana is an evergreen vine native to the Amazon region, and is a natural source of caffeine. Guarana naturally contains additional phytochemicals, such as saponins and tannins.
Green Tea
Green tea is taken from the Camellia Sinensis plant. The leaves contain potent levels of several types of polyphenols, in particular flavonoids. The most potent flavonoids in green tea include the catechin epigallocatechingallate (EGCG). Green tea is also believed to improve the ratio of HDL 'good' cholesterol to LDL 'bad' cholesterol in the blood. Recent findings show that green tea may support weight loss as part of a calorie controlled diet.
Satiereal®
Satiereal® is a patented saffron extract (Crocus Sativus) from Inoreal manufactured to a particular ratio of active principles (Crocin, Picrocrocin, and Safranal), making it different from other generic saffron extracts standardized only to the safranal content.
Citrus Aurantium
Also know as 'Bitter Orange', Citrus Aurantium is used by people to support energy and a robust metabolism.
Cayenne
Originated in tropical areas of South America and is often used to flavour food. The pepper is rich in vitamins and minerals, and is believed to hold stimulatory properties that support the way the body breaks down food and absorbs nutrients. As a result, it may help to promote a healthy metabolism and is popularly taken to support healthy weight loss regimes
Niacin
Niacin is a water soluble B vitamin naturally found in lean meats, fish, peanuts, mushrooms, brown rice and brewer's yeast. Niacin contributes to normal energy yielding metabolism and also to the reduction of tiredness and fatigue.
Black Pepper
Used to enhance the benefits of the entire supplement by promoting nutrient absorption. Recent studies have also shown that black pepper can help to block the creation of fat cells.
NUTRITIONAL INFORMATION
Per serving of Actislim Satiereal®
Per Capsule:
% NRV
Guarana 4:1 Extract
252mg
**
Green Tea Extract
(40% Polyphenols / 20% Catechins/ 10% EGCG)
100mg
**
Satiereal®
88.5mg
**
Citrus Aurantium Whole Fruit
85mg
**
Cayenne Powder Extract 8:1
50mg
**
Niacin
7mg
112%
Black Pepper Extract
2.6mg
**
Inactive Ingredients: Pullulan Capsule Shell
**No NRV established
SUGGESTED USE
As a food supplement adults to take orally 2 capsules daily; one at 9am and one at 1pm. Do not exceed 2 capsules in any one day or take capsules after 3pm.
It is recommended that this product is taken in cycles of 3 months on and 1 month off until your target weight has been achieved.
Remember:
Maximum results are achieved when taking Actislim Satiereal® along with Actislim Night.
Actislim Satiereal® Advisory information:
Food supplements must not be used as a substitute for a varied and balanced diet and a healthy lifestyle. This product should not be taken during pregnancy or breastfeeding. If you are taking any medication please consult your doctor or healthcare professional before use. Discontinue use and consult a doctor if adverse reactions occur. Keep out of reach of children. Store in a cool, dry place. Do not use if seal under cap is broken or missing. Do not exceed recommended doseRemember: Always read the label.

Actislim with Satiereal capsules are produced without binders, flow agents or excipients and are presented in the most natural Pullulan capsule shell available.

Manufactured in the UK to the highest standards cGMP for.