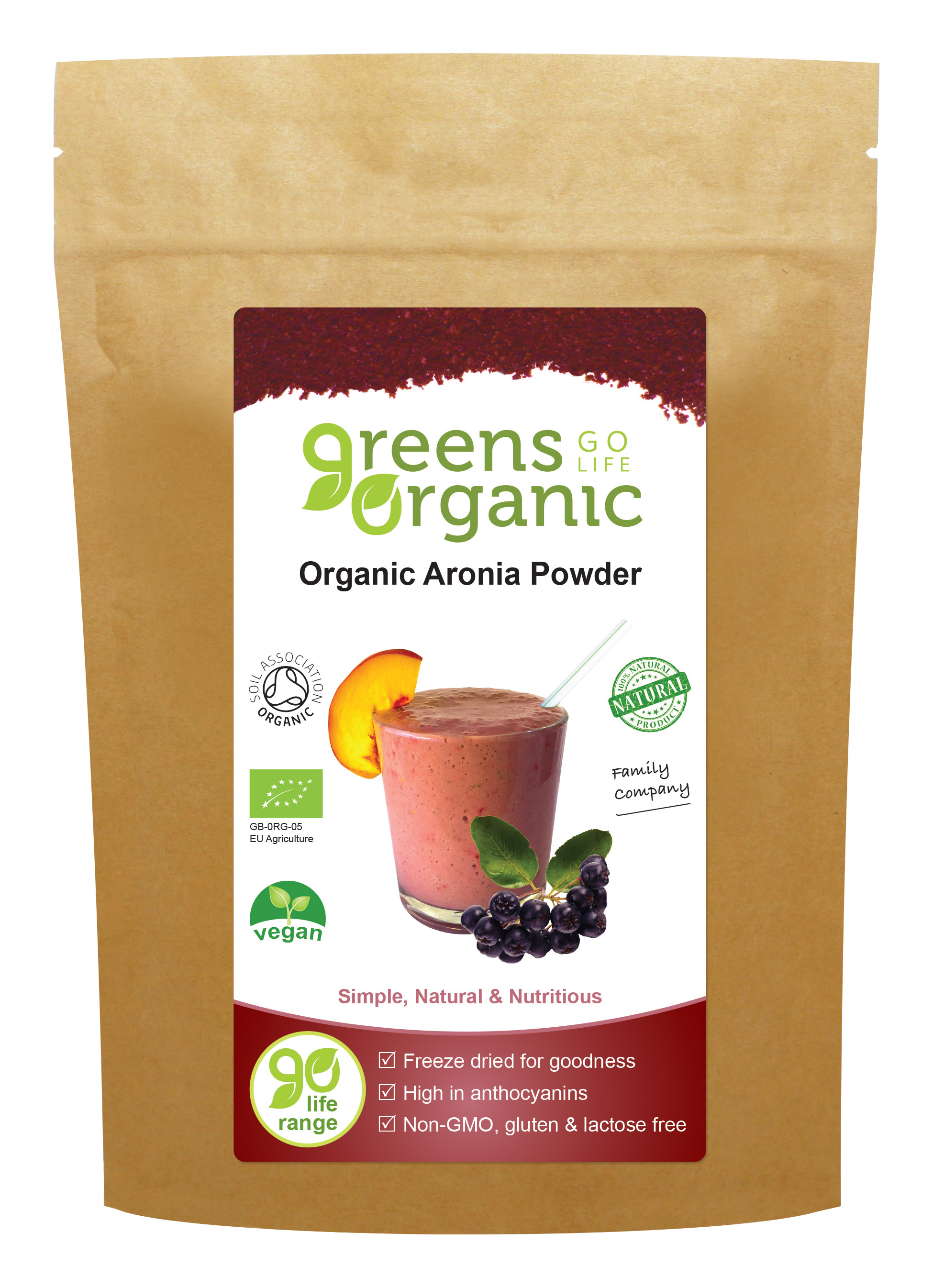 Greens Organic

Organic Aronia Powder
100g
Packed with Anthocyanin, Vitamins and Iron
Iron contributes to the reduction of tiredness and fatigue
Freeze-dried locks in the goodness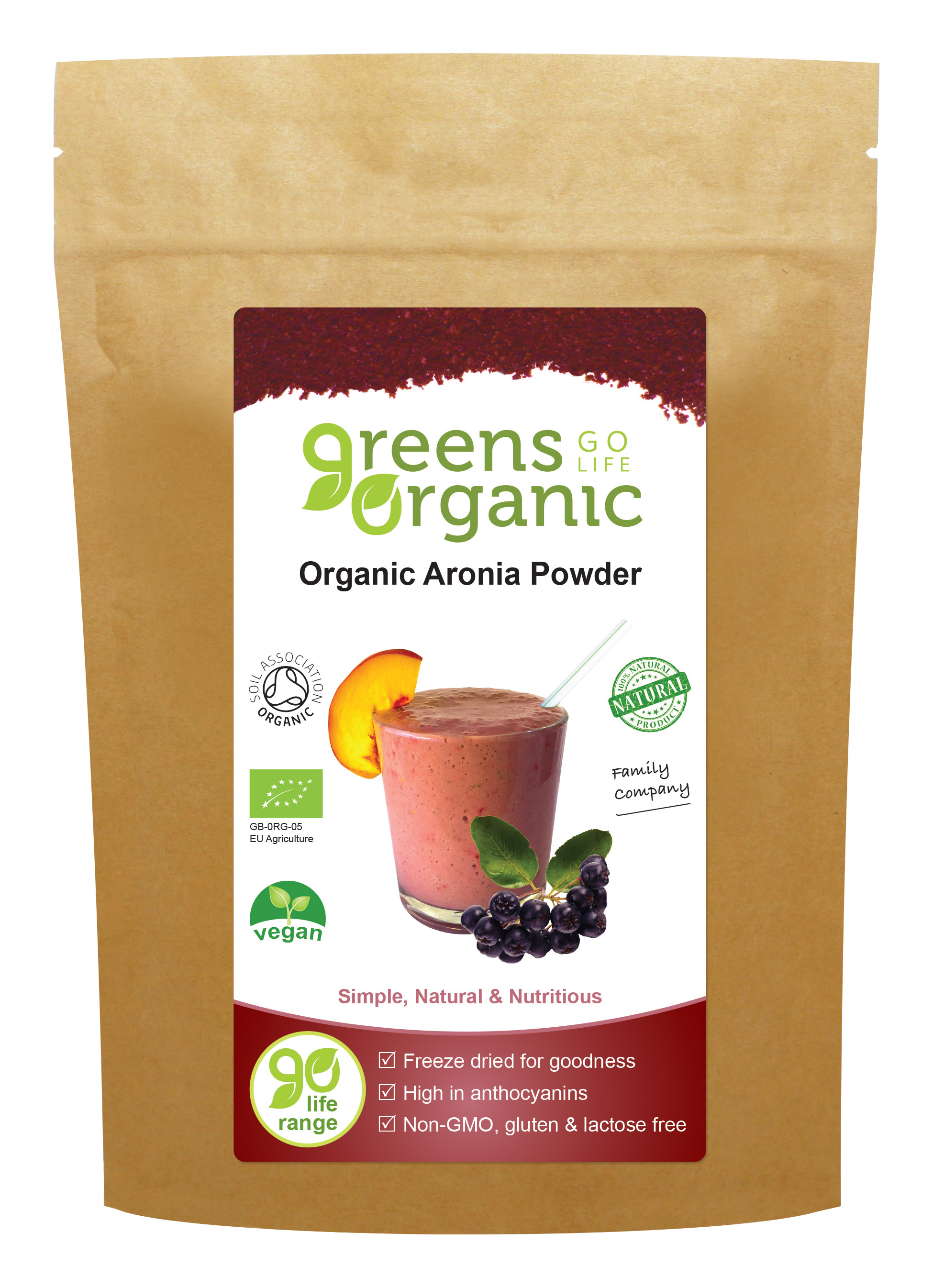 £8.95
Aronia Berries, those deep purple berries with flavonoids and anthocyanins as well as antioxidants, vitamins and minerals. This deep purple powder will really supercharge your smoothies and fruit juice. Vitamin C contributes to the reduction in tiredness and fatigue.
Why choose Aronia Powder? take a look at the top 5 health benefits Aronia has to offer:
1. Antioxidant Source - Aronia berries have the highest concentration of antioxidants present in any fruit. Why is this so important you ask? Antioxidants protect the body's cells from the damaging effects of oxidation.

2. Urinary Track Health - The second great benefit of consuming Aronia berries is keeping good urinary tract health. Urinary tract infections happen to millions of people around the world.
3. Improve Blood Circulation - Aronia berries are also known to improve the circulation of blood, make blood vessels stronger and reduce the risk of heart disease.
4. Balance Of Blood Pressure Level - Aronia helps greatly in keeping blood pressure at normal levels. The dark pigmented berries have been known to prevent spasms in blood vessels, keeping the blood pressure far from the "danger zone".
5. Prevention and Help In Treatment Of Diabetes - There have been a number of studies analyzing how Aronia berries affect people with diabetes. One of them concluded that consumption of the "super berries" would not increase blood sugar levels and it can even lower them. Aronia can be very beneficial for people who want to prevent diabetes and it can also help people manage diabetes - associated conditions.
MORE INFO
Suggested use: 5g - 15g (1 to 3 tsps) daily.
Mix with water, juice for a delicious smoothie.
Why not try a cheeky Fruity Aronia Smoothie
1 Banana, Peeled

1/2 cup of Strawberries

1/2 cup of Raspberries

1 tsp of Organic Aronia Powder

1 Carrot

1 Cup of Coconut Water (or water)
Blend all the Ingredients together, pour into a glass, sit back, relax and enjoy.
Aronia powder should not be used as a substitute for a varied, balanced diet.
You may also be interested in..
Packed with B vitamins, Zinc and IronContains all 8 essential amino acidsHigh in dietary fibre and delicious in smoothiesGluten Free, Lactose FreeSuitable for Vegetarians

VIEW

UK's No.1 Selling Brand of Organic InulinProbiotic fibre keeps you feeling fuller for longerFat free with 50 servings per bag!Gluten Free, Lactose FreeSuitable for Vegetarians, Vegans

VIEW

Packed with B vitamins, Iron, Calcium, Zinc56% Vegan Protein with 18 amino acidsLow Fat, Low ChloresterolGluten Free, Lactose FreeSuitable for Vegetarians, Vegans

VIEW